Hot News Archive
Subscribe to posts
We started our meeting with 2 reminders: the deadline to sign-up and pay for our Holiday Party is December 6 and the deadline to sign-up and pay for our January, 2018 art show at Bamboozle Cafe is December 16!
Pat Beebe led an acrylic pouring workshop at the North Tampa Arts League's meeting held at the Life Enrichment Center last night. The LEC hosts NTAL's demos and workshops 4 times per year during the 2nd month of each quarter.
To recap, start with a small paper cup for each color. Add a small amount of Floetrol to each cup (make sure it is well shaken first). Add acrylic paint to color the Floetrol (approximately 1 part paint to 4 parts Floetrol) and rubbing alcohol to thin the mixture to a watery consistency. Add 3 drops of silicon to each small cup. The silicon creates the cells but don't get carried away. Too much silicon prevents cells from forming.
For this workshop, we cut off the bottom from an empty water bottle and placed it on top of our canvas. Alternate pouring each color onto the bottle bottom. Its shape channels the paint into a flower-like shape. You can use a wood stick to help push the paint out of the channels. Finally use a flat surface to gently scrape the paint towards the edges of the channel.
A second technique we tried is called a dirty pour. In this case, you layer each color into a new cup. Place the canvas on top of the cup and invert it. Gently lift the cup to start the paint flowing and mixing across the canvas.
More photos from this event can be found at Meetup. 
North Tampa Art League Holiday Party
December 13, 2017, 6pm - 9pm


¡CUATRO Restaurant & Bar @ TPC Tampa Bay golf course
5300 W Lutz Lake Fern Rd,Lutz, FL 33558
http://cuatrotampa.com, (813) 949-1486
Thanks to Diane Harm for coordinating our 2017 end of year holiday celebration. Each member can bring one guest. Here is the set menu (most allergies can be accommodated):
---
Artisan bread & butter at each table
First Course - House Salad with field greens, cherry tomatoes, grilled corn, red onion, feta cheese. Choice of Ranch or Lemon Vinaigrette
Entree (pre-ordered choice on reservation form)
Balsamic Pork Tenderloin

(GF), creamed green bean casserole, garlic mashed potatoes

Grilled Rosemary Chicken

, balsamic red potatoes, grilled asparagus

8oz Hanger Steak

, horseradish mashed potatoes, grilled asparagus, garlic-lemon aioli

Vegetable Lasagna (V)

, San Marzano tomatoes, roasted squash, leeks, fresh mozzarella, fresh basil
Desert - cookie platter at each table
Iced tea & water, coffee on request
---
Enclose your check for $30* per person ($23.99 plus tax and tip) made payable to Cuatro and the competed reservation form by December 6, 2017 to:
Diane Harm
13626 Greenfield Dr. Apt 501
Tampa, FL 33618
937 239-4002
*Cash Bar or $10 corkage charge for bringing your own wine.
Welcome: 
Fran opened the meeting welcoming the new members, Victoria Foster and Gina Cunningham. 
Committee Reports: 
Pat Beebe, Toast Of Tampa Chairman – The exhibit / art sale is Nov. 4th at the USF Music Concert Hall lobby, 3755 USF Holly Dr. The art call went out and 6 participants have signed up. There's room for more but it's limited.
 
Bamboozle – Pat Beebe is the contact for this event. This is for all paid NTAL members. Art call is going out. Space is limited to 30 pieces no larger than 16"x 20". Installation is Jan 13. There will be lots of activities going on downtown during this month. No commission will be charged for art sold, NTAL has paid the venue fee.
 
Diane Harm, Christmas Party Chairman – The dinner will be at Quatro, in the Tournament Players Club on Dec. 13, 6 – 9. The price for the dinner is $30.  There will be 2 choices of entrees and a vegetarian dish. They will also accommodate allergies. A bar is available for drinks or bring your own wine ($10 corkage fee). There will be music, a television and an available microphone. Decorations can be put up. This is a sit-down dinner not a buffet. The round tables accommodate 6 – 8 seats. The e-mail will go out as soon as the meal choices are available.
 
Sally Yoder, Plein Air Chairman – The next outing is a Quick Draw and Potluck at Sally's House from 4 – 8. 
Announcements: 
Dotty Banker sold one of her paintings that was exhibited at Hidden Springs. 

Paula Noblitt sold a small 8x10.

Fran Byers' Toast of Tampa Choir competed in Las Vegas and took 4th place in world.

Joan Garcia has a painting in the Lightening Celebration of the Arts at Amelia Arena.
Program: 
Show and Tell and Featured Artist – Paula Noblitt Chairman.  12 members participated in the Show and Tell. 10 members entered to be voted for the Featured Artist. The F.A. winner is Fran Byers. Congrats!

Our Nov. Program will be at the LEC. Pat Beebe will demo acrylic pouring. Participation is encouraged so bring an apron.
North Tampa Arts League is returning to the Bamboozle Café in downtown Tampa at 
516 N. Tampa Street, 
Tampa, FL 33602
. A well-known Tampa Restaurant specializing in fresh, healthy Southeast Asian Food, Bamboozle has extensive exposure to the art buying public.  
This opportunity is open to all paid NTAL Members to exhibit art suitable for all audiences that can be hung on the wall.  As this is a 2018 show, don't forget to renew your membership if needed when applying. 
Attached is the Call to Artists, please read the terms (they are a little different from our other shows),  follow the How To Apply instructions and be sure to meet the deadlines. Space is limited so be sure to get your entry in ASAP.  
DATES TO REMEMBER: 
Paid Application Deadline:           Saturday, December 16, 2017 
Art Drop-off:                                 Saturday, January 13, 2018, 9:30am 
Opening Reception:                      Tuesday, January 16, 2018, 6:00 to 9:00 pm 
Art Pickup:                                    Saturday, February 10, 2018
, 9:30am
This show coincides with lots of downtown activities. The 
David A. Straz, Jr. Center for the Performing Arts has a busy performance schedule. 
The Gasparilla Pirate Festival is on January 27 and the 2018 NHL All Star Game is on January 28. 
Artwork Criteria
●
Completed artwork must be suitable for all audiences
●
The exhibit will adhere to collection standards
●
No work with live  animal or plant life
●
No electricity (except battery)
●
No water (unless self contained)
●
No hazardous materials will be accepted
●
No nudity in paintings or photographs unless tasteful and approved by Lynn Pham, cafe owner
●
No drilling into walls, no nails into walls other than on nail strips on wall
Display Criteria
●
Funky As A Monkey Art Studio will install and remove exhibit
●
Artwork must be ready for hanging prior to show opening
●
Artwork must not exceed 25 pounds, unless previously approved by Bamboozle Cafe
●
Bamboozle Cafe is not responsible for any damage to art pieces or any personal injury incurred during the process of setting up for the event
●
Artists can leave their artist statement and business cards
Fees and Commissions:
●
$20 fee per artist for two (2) smaller 16"x20" pieces or one (1) larger 40"x40" piece.
●
We strongly encourage all participating artists to attend show opening event and provide publicity through their mailing lists and social media
●
Press releases, promotional materials conducted by Funky As A Monkey and provided to NTAL for their promotion and marketing
●
No commission is charged for any art sold. NTAL has paid the rental for the entire Bamboozle Cafe Gallery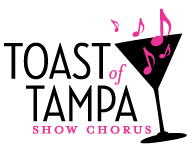 NTAL President Fran Byers is not just a talented painter; she is also a member of the
Toast of Tampa
 show chorus  On Saturday, November 4, 2017, there are 2 concert performances at the
USF Music Concert Hall
with guest performers Voctave. The shows are at 3pm and 7pm (
download the show poster here
). Fran has tickets available to the shows: General seating is $25, Patron seating is $40. 
Fran has arranged for NTAL artists to show and sell their artwork down the hall from the music hall before each show and during the intermissions. Both 2D and 3D family friendly art is welcome. There is no cost to the artists participating but there are certain responsibilities outlined below and in the Artist Call sent to the general membership on October 5. Here are the details...
Where: 
The USF Music Concert Hall (MUS 176) is located at 3755 USF Holly Dr on the Tampa Campus. 

There is no show fee or commission. 

Parking for the event TBD. Typically parking is free during performances but please be familiar with the USF parking policy as there may be a cost. Parking lots are along the sides of and across the street from the Concert Hall. 

We have been assigned the large south entrance atrium for our art sale. 
When: 
Show date is Saturday, November 4, 2017.

Artists must arrive to set up their table and artwork at 1pm. Late arrivals cannot setup after 2pm as we cannot interfere with the arrival of the audience. 

Artists or their assigned representatives must stay with their artwork for the duration. If you don't want to make this an all day commitment, consider working out a shift schedule with your team. You cannot remove your art or displays until the end of the show. 

At the end of intermission of the second show (somewhere around 8:30-8:45pm), Artists are required to break down their displays and leave the music hall before the end of the concert. We must be clear of the facility before the end of the second show. We can use the same front curbside temporary parking out front. 
Set-up:
Temporary parking curbside is available for the convenient transfer for your art and gear.

You must provide your own table and displays. There are some chairs but you should pack that too just in case they are reallocated by USF. Plan for a display space of 8', which can be one large or a couple of smaller tables. 

There is ample light in the area so additional lights will not be needed. 

Multiple artists can share a table. In fact, this is encouraged, as it will allow more NTAL artists to participate. 

Both 2D and 3D family friendly art is welcome.

Small items will likely sell better but feel free to bring some larger samples too. 

Displays cannot impede the safe flow of foot traffic in the atrium. Nothing can be hung on walls. Easels must not be a tripping hazard. 

Artists will not be allowed into the concert hall without paid admission. 

If you don't yet have the ability to accept credit card payments, consider signing up with a service such as  Square. You will need a smart phone with a cellular data connection to do this. 
Registering:
Notify ntalboard@gmail.com with the following information for overall space planning (copy and paste the blue text into your email): 

Member name:  

Member mobile phone number: 

For each table, provide the size (total length limited to 8'):

Required footprint of any free-standing wall panels you want to bring: 

Number of floor-standing easels: 

Additional Member names sharing your space and their phone numbers: 

Incomplete submissions will not hold a space but you will have a chance to send an update. 
Space will be assigned on a first-come, first-served basis. 
A waiting list will be kept in case a registered artist has to withdraw. 
Getting the word out:
An advertisement in the show brochure will alert concertgoers of our sale. 
Signage in the main atrium and down the hall to the south entrance will direct patrons to our sale area. 
As this sale is in conjunction with the concert for ticket holders only, we will not advertise it separately. 
Fran Byers, Dave Beebe and Pat Beebe scoped out the facility so you can have an idea of how things will work on the day of...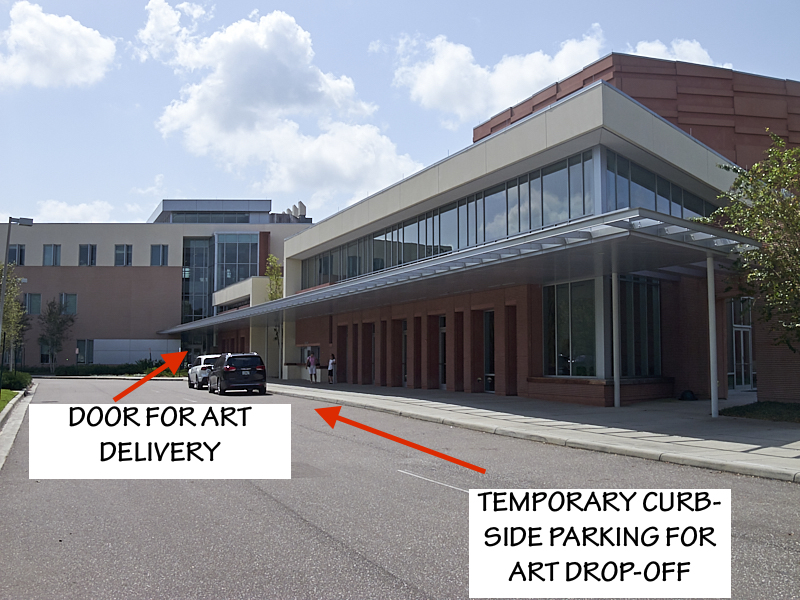 Drop-off artwork along the curb by the ticket window and main entrance. We will use the doors south of there.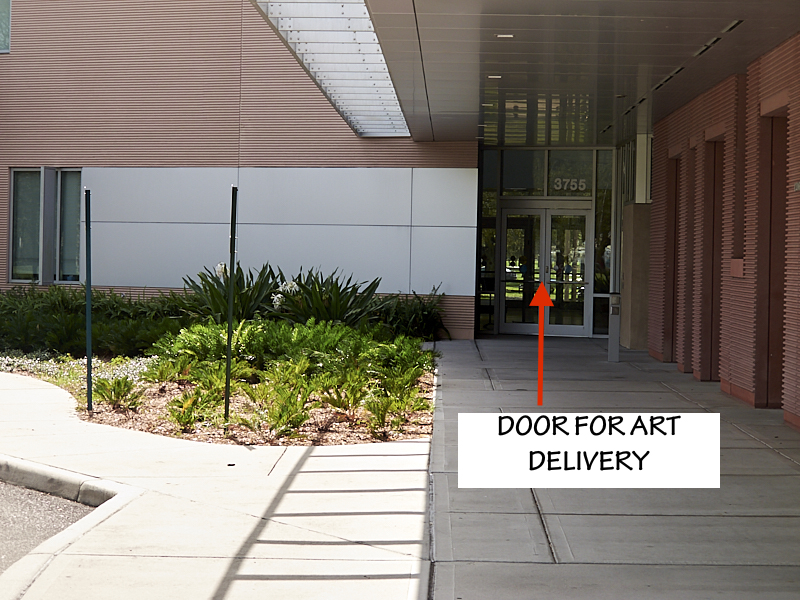 These doors lead directly into the south atrium where we will set-up at 1pm.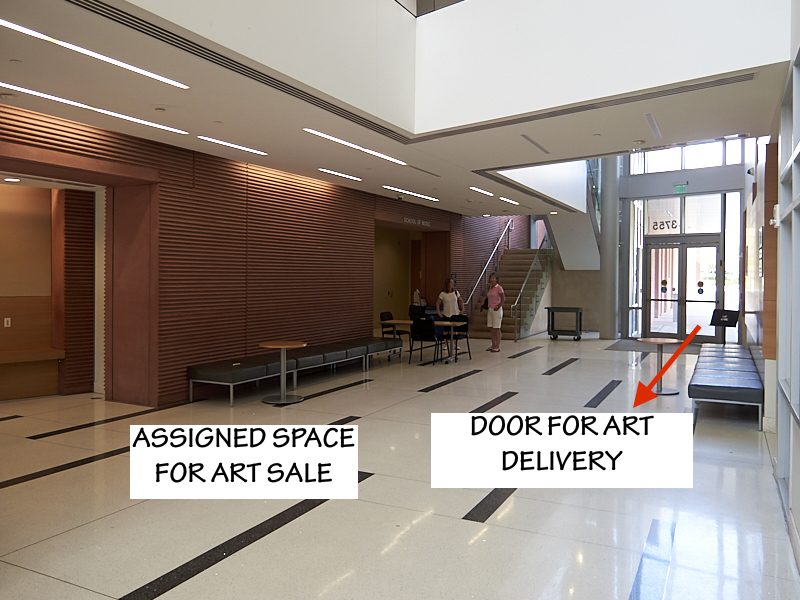 This view is inside the south atrium facing back to the doors we will use for delivery. The main hallway is behind the stairwell and to the right. Restrooms are out-of-frame to the right.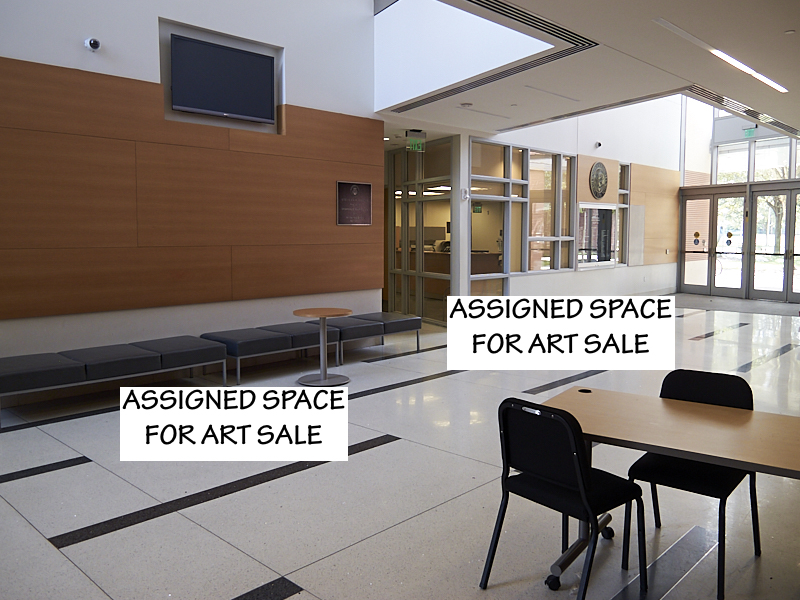 This is the view by the stairwell looking to the entrance doors opposite where we will deliver our art.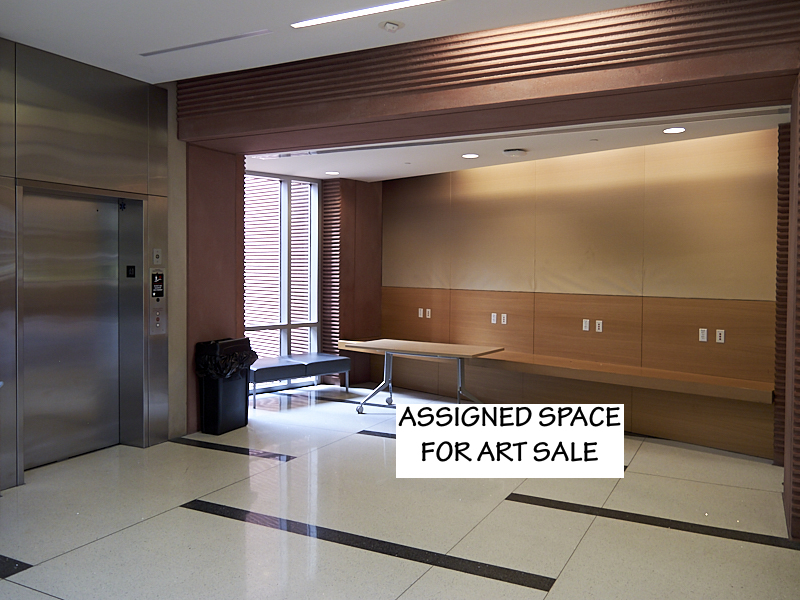 To the right of the south doors is an elevator.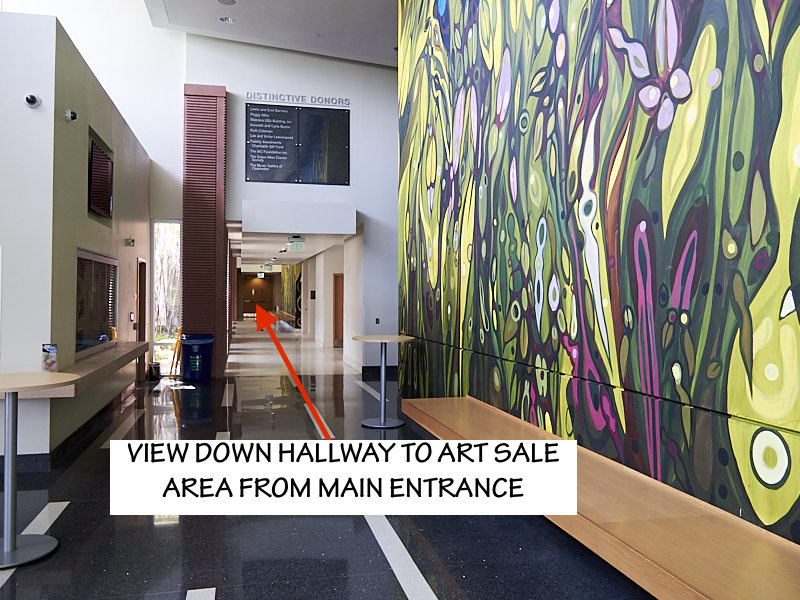 From the main entrance next to the ticket office, turn left and this hallway leads to the southern atrium.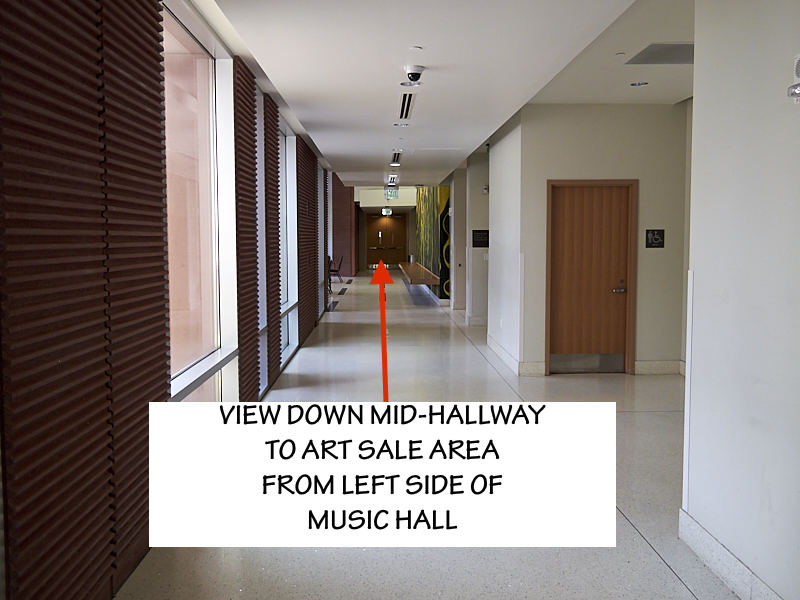 There are another set of restrooms part way down this hallway from the main atrium. 
Welcome:
Fran opened the meeting welcoming our new guests, Victoria Foster, Debbie Newman and Ann Murphy, and a new member Libby Sheridan. 
Thanks went out to: Dotty Banker and all the volunteers for helping with the J. B. Keel show. 
Officers' Report - Treasurer:  Bank Balance is 2,161.66 and membership is 55. 
Chairman Reports: 
Diane Harm – Christmas Party is proceeding with the plans for dinner at the Tournament Players Club. Reservation is for Wednesday, Dec. 13, 6 – 9. She will be meeting with them next Friday to discuss the menu plan. The meal will not include the drinks. The room reservation fee of $250 has been waived. 
Dotty Banker – JB Keel Exhibit: The reception was nice. The 4th entries were left out due to limited hangers. Monika Leon sold 3 photos pieces from the exhibit. The art pick-up date is changing to Friday instead of Saturday as originally planned. An e-mail will be sent out with the time.
Sally Yoder – Plein Air: The next Plein Air outing will open the new season with a Pot-Luck on Oct. 27, 4 – 8, at the Yoder residence. This will be a 2-hour quick-draw, then bring a dish to share and your drink for after. RSVP with Sally. Until then the group is meeting every other Thursday to work with a live model at the New River Library in Wesley Chapel, 1 - 3:30. Model fee is split among participants.
Announcements: 
Toast Of Tampa – Pat Beebe will be organizing this event. The exhibit will be for one day only at USF school of music during the 2 performances, staring before the first show through the intermission of the second show, then clearing out before the end of that show. Artist must stay with their works, bring their own set-up and means of accepting payment. Call to artist will come out soon. Tickets for the 3pm and 7pm performances on Nov. 4th can be purchased through Fran Byer. Cost is $25 for general admission seats or $40 for patron seats. Guest performer is Voctave. 
Celebration Of Women – exhibit at the JB Keel Library is Feb. and March. Individual artist need to contact Jennifer Hodges at HodgesJL@hillsboroughcounty.org for application.
Bamboozle Halloween – exhibit is Oct. 14 – Nov. 18. Contact Tim Gibbons for application. 
Volunteer Needed – to take over the Treasurer's position. 
Marie Schadt won 2nd place award at the Carrollwood Cultural Center "People" show and 
Margret Thomas won the 3rd place award. 
Joan Garcia has a painting in the Lightening Celebration of the Arts at Amalie Arena.
Program ideas are needed: Suggestion was made for another Rummage Sale. Members can clean out and bring items to sell or barter. Another suggestion is to have a "Painter's Key". Members can volunteer to give art tips. If you have any ideas you would like to see at the General meetings, let us know. 
Program:
Art Challenge – "Wine"
. Members brought their work in anonymously and were voted by those present. The winners are 1st place – Virginia Butler, 2nd – Sally Yoder, 3rd – Libby Sheridan.  This is the last art challenge for this year. The next one will be announced at the Feb. general meeting. 
This quarter's art challenge topic was "Wine". And the winners were: 
Virginia Butler, Sally Yoder and Libby Sheridan. Congratulations! You can find all the event photos at
Meetup
. 
Welcome: 2nd VP - Events, Dore' Anderson called the meeting to order and welcomed our visitor Libby Sheridan. 
Committee Reports: 
Jimmie B Keel Show – We have 50 entries and 15 artists participating. No information on the reception yet. Dotty requested $50 for the reception. 
Christmas Party: The menu includes chicken, fish and beef for $35. There is no fee for the room.  
Old Business:  September 5 – Art delivery for JB Keel, 10 – 12.
                          September 7 – JB Keel Reception, 6 – 8.
                          October 28 -  Art pick-up, 10 - 12
Announcements: 
Community Open Portrait Drawing – 31/2 hour sessions with a live model every other Thursday at the New River Library, 34043 FL-54 Wesley Chapel. Next one is Thursday Aug 31, 1 – 3:30. Bring your own supplies and there is a model fee which is divided amongst participants so the more the less. 
Art Challenge!!! The subject for next months is "Wine". 
Program
: Egg Tempera demonstration by Gainor Roberts. For more information on her classes go to
Gainor.com
. 
On July 26, 2017 
Virginia Butler
was selected as the North Tampa Arts League Featured Artist for the 3rd Quarter of 2017. 
Virginia has a passion for wildlife, landscapes, and still life. She paints realistic animal portraits from photos of my clients pets. Her winning entry is a portrait of "Odie", Virginia's sister's white boxer.  "
My inspiration for this painting was his sagging face, eyes and all of his wrinkles!" 
Virginia adds "
I acquired my painting skills by attending a few art classes, but mostly I learned on my own by reading books, magazines, and visiting art museums. I'm a detailed person; I love to paint each hair or feather and make each painting look real. I paint subjects that I have a passion for and try to portray these feelings in each of my paintings."