Hot News
Subscribe to posts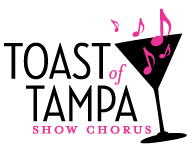 NTAL President Fran Byers is not just a talented painter; she is also a member of the
Toast of Tampa
 show chorus  On Saturday, November 4, 2017, there are 2 concert performances at the
USF Music Concert Hall
with guest performers Voctave. The shows are at 3pm and 7pm (
download the show poster here
). Fran has tickets available to the shows: General seating is $25, Patron seating is $40. 
Fran has arranged for NTAL artists to show and sell their artwork down the hall from the music hall before each show and during the intermissions. Both 2D and 3D family friendly art is welcome. There is no cost to the artists participating but there are certain responsibilities outlined below and in the Artist Call sent to the general membership on October 5. Here are the details...
Where: 
The USF Music Concert Hall (MUS 176) is located at 3755 USF Holly Dr on the Tampa Campus. 

There is no show fee or commission. 

Parking for the event TBD. Typically parking is free during performances but please be familiar with the USF parking policy as there may be a cost. Parking lots are along the sides of and across the street from the Concert Hall. 

We have been assigned the large south entrance atrium for our art sale. 
When: 
Show date is Saturday, November 4, 2017.

Artists must arrive to set up their table and artwork at 1pm. Late arrivals cannot setup after 2pm as we cannot interfere with the arrival of the audience. 

Artists or their assigned representatives must stay with their artwork for the duration. If you don't want to make this an all day commitment, consider working out a shift schedule with your team. You cannot remove your art or displays until the end of the show. 

At the end of intermission of the second show (somewhere around 8:30-8:45pm), Artists are required to break down their displays and leave the music hall before the end of the concert. We must be clear of the facility before the end of the second show. We can use the same front curbside temporary parking out front. 
Set-up:
Temporary parking curbside is available for the convenient transfer for your art and gear.

You must provide your own table and displays. There are some chairs but you should pack that too just in case they are reallocated by USF. Plan for a display space of 8', which can be one large or a couple of smaller tables. 

There is ample light in the area so additional lights will not be needed. 

Multiple artists can share a table. In fact, this is encouraged, as it will allow more NTAL artists to participate. 

Both 2D and 3D family friendly art is welcome.

Small items will likely sell better but feel free to bring some larger samples too. 

Displays cannot impede the safe flow of foot traffic in the atrium. Nothing can be hung on walls. Easels must not be a tripping hazard. 

Artists will not be allowed into the concert hall without paid admission. 

If you don't yet have the ability to accept credit card payments, consider signing up with a service such as  Square. You will need a smart phone with a cellular data connection to do this. 
Registering:
Notify ntalboard@gmail.com with the following information for overall space planning (copy and paste the blue text into your email): 

Member name:  

Member mobile phone number: 

For each table, provide the size (total length limited to 8'):

Required footprint of any free-standing wall panels you want to bring: 

Number of floor-standing easels: 

Additional Member names sharing your space and their phone numbers: 

Incomplete submissions will not hold a space but you will have a chance to send an update. 
Space will be assigned on a first-come, first-served basis. 
A waiting list will be kept in case a registered artist has to withdraw. 
Getting the word out:
An advertisement in the show brochure will alert concertgoers of our sale. 
Signage in the main atrium and down the hall to the south entrance will direct patrons to our sale area. 
As this sale is in conjunction with the concert for ticket holders only, we will not advertise it separately. 
Fran Byers, Dave Beebe and Pat Beebe scoped out the facility so you can have an idea of how things will work on the day of...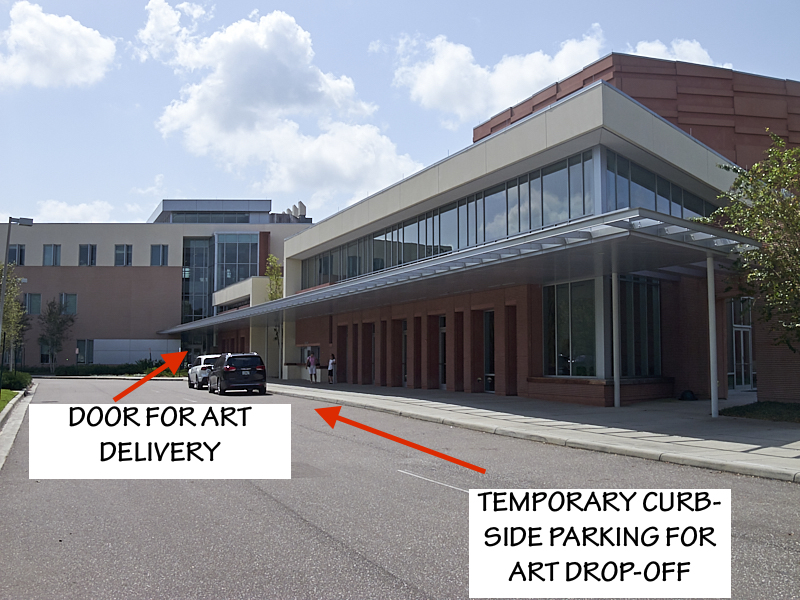 Drop-off artwork along the curb by the ticket window and main entrance. We will use the doors south of there.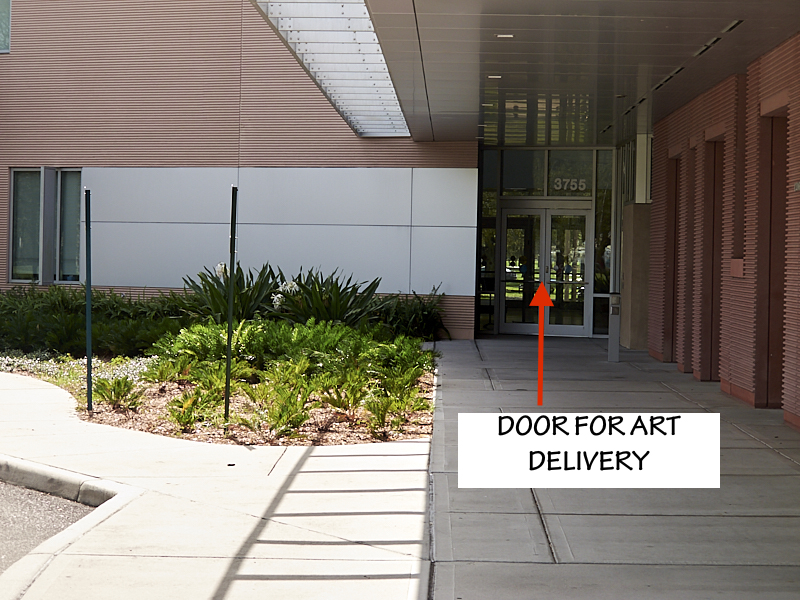 These doors lead directly into the south atrium where we will set-up at 1pm.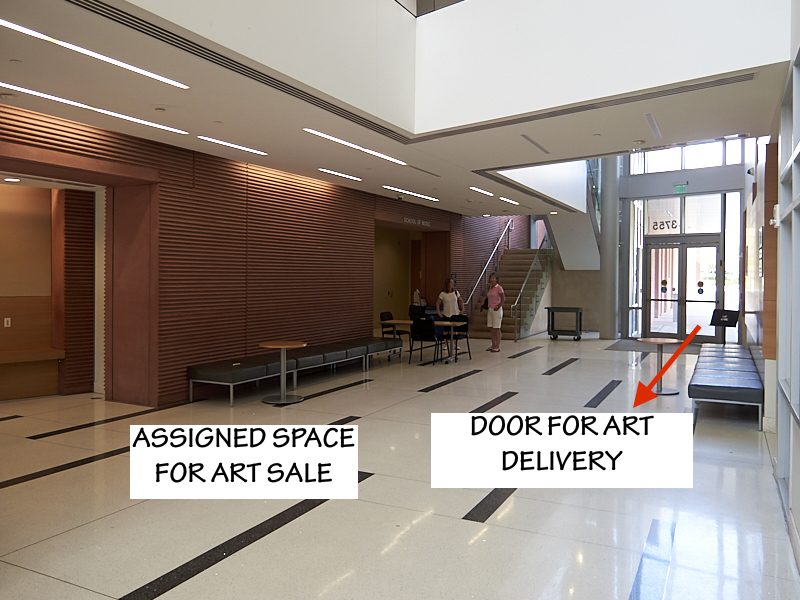 This view is inside the south atrium facing back to the doors we will use for delivery. The main hallway is behind the stairwell and to the right. Restrooms are out-of-frame to the right.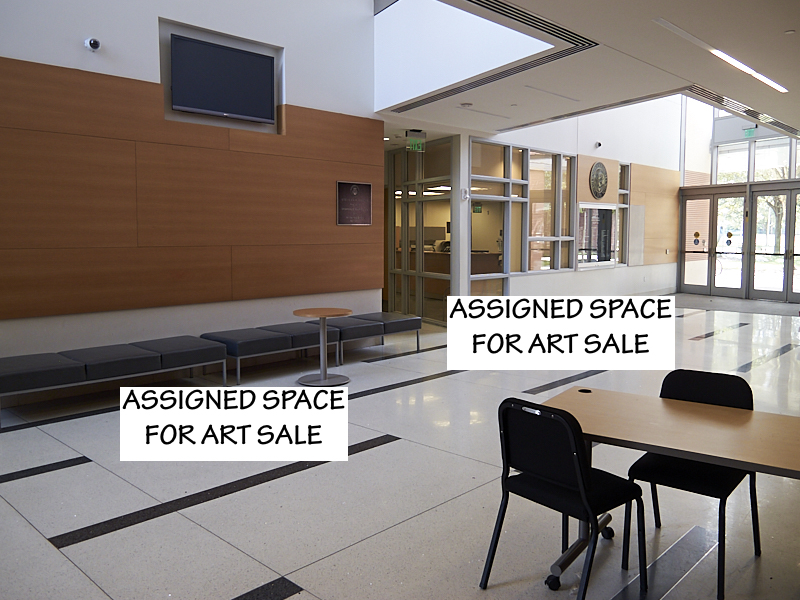 This is the view by the stairwell looking to the entrance doors opposite where we will deliver our art.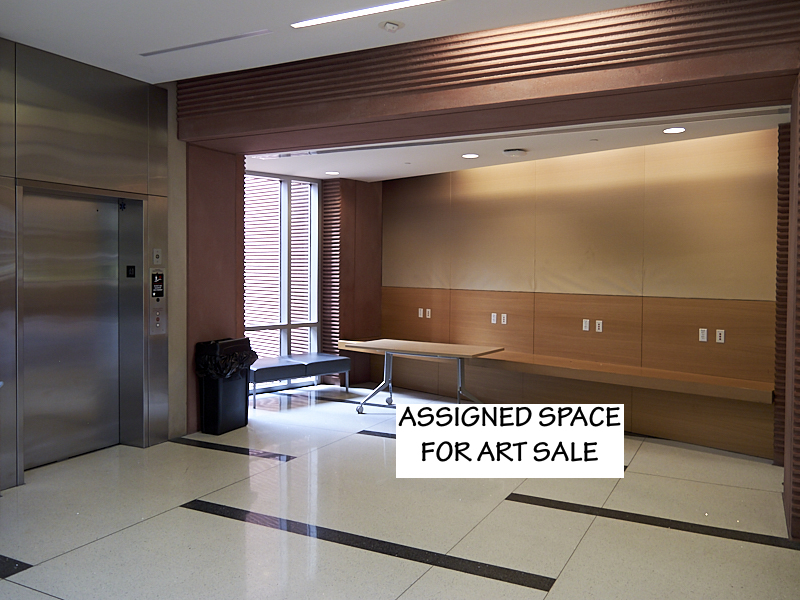 To the right of the south doors is an elevator.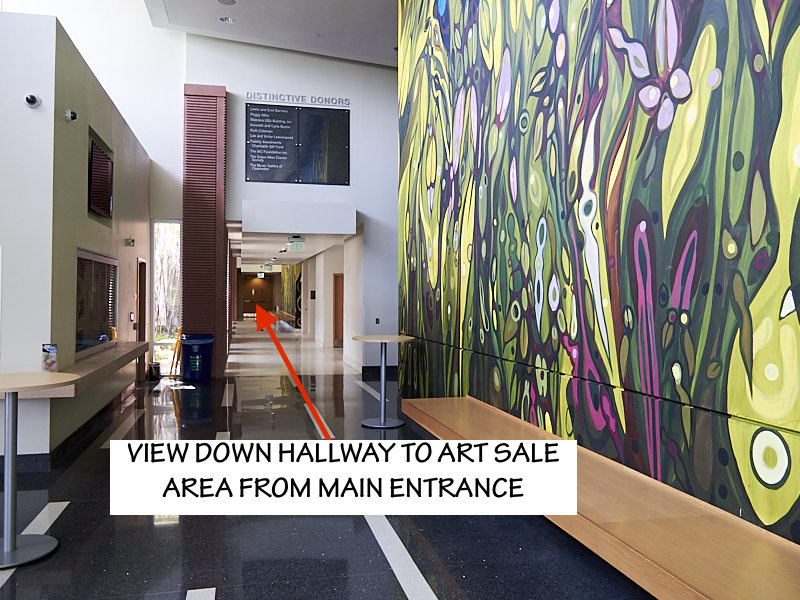 From the main entrance next to the ticket office, turn left and this hallway leads to the southern atrium.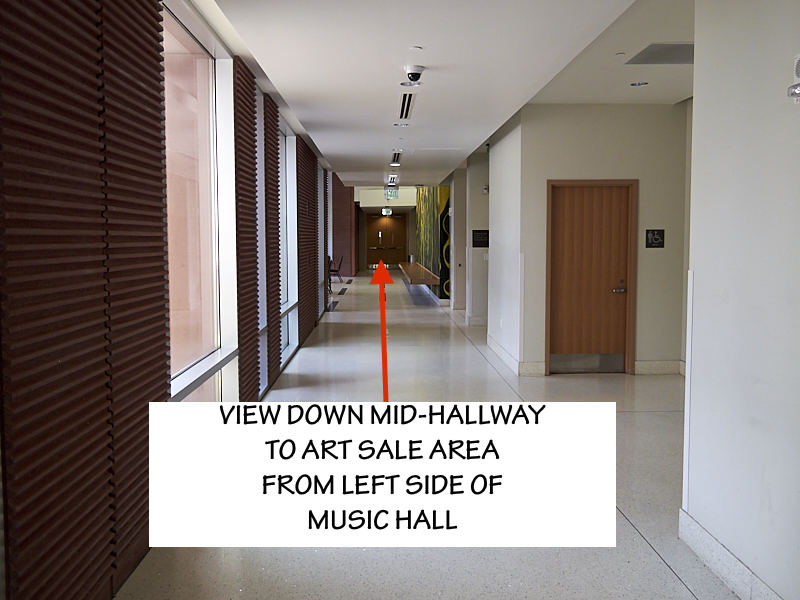 There are another set of restrooms part way down this hallway from the main atrium. 
Welcome:
Fran opened the meeting welcoming our new guests, Victoria Foster, Debbie Newman and Ann Murphy, and a new member Libby Sheridan. 
Thanks went out to: Dotty Banker and all the volunteers for helping with the J. B. Keel show. 
Officers' Report - Treasurer:  Bank Balance is 2,161.66 and membership is 55. 
Chairman Reports: 
Diane Harm – Christmas Party is proceeding with the plans for dinner at the Tournament Players Club. Reservation is for Wednesday, Dec. 13, 6 – 9. She will be meeting with them next Friday to discuss the menu plan. The meal will not include the drinks. The room reservation fee of $250 has been waived. 
Dotty Banker – JB Keel Exhibit: The reception was nice. The 4th entries were left out due to limited hangers. Monika Leon sold 3 photos pieces from the exhibit. The art pick-up date is changing to Friday instead of Saturday as originally planned. An e-mail will be sent out with the time.
Sally Yoder – Plein Air: The next Plein Air outing will open the new season with a Pot-Luck on Oct. 27, 4 – 8, at the Yoder residence. This will be a 2-hour quick-draw, then bring a dish to share and your drink for after. RSVP with Sally. Until then the group is meeting every other Thursday to work with a live model at the New River Library in Wesley Chapel, 1 - 3:30. Model fee is split among participants.
Announcements: 
Toast Of Tampa – Pat Beebe will be organizing this event. The exhibit will be for one day only at USF school of music during the 2 performances, staring before the first show through the intermission of the second show, then clearing out before the end of that show. Artist must stay with their works, bring their own set-up and means of accepting payment. Call to artist will come out soon. Tickets for the 3pm and 7pm performances on Nov. 4th can be purchased through Fran Byer. Cost is $25 for general admission seats or $40 for patron seats. Guest performer is Voctave. 
Celebration Of Women – exhibit at the JB Keel Library is Feb. and March. Individual artist need to contact Jennifer Hodges at HodgesJL@hillsboroughcounty.org for application.
Bamboozle Halloween – exhibit is Oct. 14 – Nov. 18. Contact Tim Gibbons for application. 
Volunteer Needed – to take over the Treasurer's position. 
Marie Schadt won 2nd place award at the Carrollwood Cultural Center "People" show and 
Margret Thomas won the 3rd place award. 
Joan Garcia has a painting in the Lightening Celebration of the Arts at Amalie Arena.
Program ideas are needed: Suggestion was made for another Rummage Sale. Members can clean out and bring items to sell or barter. Another suggestion is to have a "Painter's Key". Members can volunteer to give art tips. If you have any ideas you would like to see at the General meetings, let us know. 
Program:
Art Challenge – "Wine"
. Members brought their work in anonymously and were voted by those present. The winners are 1st place – Virginia Butler, 2nd – Sally Yoder, 3rd – Libby Sheridan.  This is the last art challenge for this year. The next one will be announced at the Feb. general meeting. 
This quarter's art challenge topic was "Wine". And the winners were: 
Virginia Butler, Sally Yoder and Libby Sheridan. Congratulations! You can find all the event photos at
Meetup
. 
Welcome: 2nd VP - Events, Dore' Anderson called the meeting to order and welcomed our visitor Libby Sheridan. 
Committee Reports: 
Jimmie B Keel Show – We have 50 entries and 15 artists participating. No information on the reception yet. Dotty requested $50 for the reception. 
Christmas Party: The menu includes chicken, fish and beef for $35. There is no fee for the room.  
Old Business:  September 5 – Art delivery for JB Keel, 10 – 12.
                          September 7 – JB Keel Reception, 6 – 8.
                          October 28 -  Art pick-up, 10 - 12
Announcements: 
Community Open Portrait Drawing – 31/2 hour sessions with a live model every other Thursday at the New River Library, 34043 FL-54 Wesley Chapel. Next one is Thursday Aug 31, 1 – 3:30. Bring your own supplies and there is a model fee which is divided amongst participants so the more the less. 
Art Challenge!!! The subject for next months is "Wine". 
Program
: Egg Tempera demonstration by Gainor Roberts. For more information on her classes go to
Gainor.com
. 
On July 26, 2017 
Virginia Butler
was selected as the North Tampa Arts League Featured Artist for the 3rd Quarter of 2017. 
Virginia has a passion for wildlife, landscapes, and still life. She paints realistic animal portraits from photos of my clients pets. Her winning entry is a portrait of "Odie", Virginia's sister's white boxer.  "
My inspiration for this painting was his sagging face, eyes and all of his wrinkles!" 
Virginia adds "
I acquired my painting skills by attending a few art classes, but mostly I learned on my own by reading books, magazines, and visiting art museums. I'm a detailed person; I love to paint each hair or feather and make each painting look real. I paint subjects that I have a passion for and try to portray these feelings in each of my paintings."
Welcome to our guest Ginger Cunningham. Good to see john Henne. 
Thanks went out for the snacks that were brought by Gloria Jean. 
Officers' Report: Treasurer and 1st VP were absent.  
2nd VP Report – Dore' Anderson. See Committee Reports below. 
Committee Reports: 

A. Jimmy B Keel Show: Dotty Banker is Chairman. Call to artist has gone out for the "Expressions" show Sept. 5, 10 – 12. Pick-up is Oct. 28, 12 – 2. Reception is Thursday Sept 7, 6 – 8. The Library is providing cookies and water. There is a $10 fee for up to 4 pieces. Sizes are limited to no smaller than 8X10" and no larger than 45".  Gainor will do the tags. Prices will not be included on the tags but will be available on a list at the front desk. The rest of the information is on the Call to Artist letter. Please make sure art is ready to hang or it will not hang.  The volunteers will not have the supplies needed. 
B. Christmas Party: Diane Harm is Chairman. It will be held at the Tournament Players Club, in Lutz. Date and time are not available yet. There will be an advance cost required from each member for reservations. 
C. Bamboozle Show: Dore' Anderson will be Chairman. Jan. 13, 2 – 3:30 – Delivery. Removal is Feb 10, 2:00. The Bamboozle show is for active members only. No fee for up to 3 pieces. No size restrictions. No commission since there is a $200 fee paid by NTAL. Card will have all artist contact on it.  
D. Plein Air: Sally Yoder is Chairman. They are taking a summer break right now but if anyone is interested in continuing you can join up with Urban Sketchers on Thursdays at 9:30. A Portrait and Figure Group will be meeting Aug 17 at New River Library in Wesley Chapel. Model fee is $ 30 between participants so the more the better.
Old Business- Carrollwood Cultural Center Show: Members were asked for feedback and concerns. Among them was it was not open to the public due to summer camp restrictions and the reception was sparse. A letter will be going out to Paul Berg, CCC director, voicing some concerns from the board. 
New Business:  Members present were also asked for feedback and opinions concerning summer breaks and programs for meetings. Most are interested in continuing through the summer without breaks. Programs during this month are not necessary. Artist just want to meet and gather. 
A concern was made that the General meetings are not advertised in local papers. Concern was also made for the lack of notice sent to members prior to upcoming meetings. (Announcements are made via our website,  Meetup, Facebook and an emailed newsletter is sent the week prior to each meeting.)
Suggestions for summer programs were projects for good causes and another panel project to donate or sell.
Show and Tell and Featured Artist:
The members had open and unlimited time to share their work. Votes were cast for those participating in Featured Artist. The winner is Virginia Butler. Congrats!


This exhibit will feature art created by the members of the North Tampa Arts League. Members should enter wall hangable art pieces from their body of work that reflect and "Express" who they are as artists. The Jimmie B Keel library is located at 2902 West Bears's Avenue, Tampa. 
DATES TO REMEMBER: 
Entry Deadline: Monday, August 14, 2017 
Delivery of Art: Tuesday, September 5, 10:00 am to 12:00 pm (Hanging Committee will stay to hang)
Opening Reception: Thursday, September 7th, 6:00 - 8:00 pm
Art Pick Up: Saturday, October 28, 10:00am – 12:00 pm
FEE: $10 for up to 4 entries. The application and fee must be submitted by August 14, 2017.  See the link below for instructions and application form. 
Welcome: Fran welcomed our visitors - oil painter Gloria Jean Schoenagle who just moved down from Pa, and Ginger Lee. 
Thanks went out to Dore' Anderson and her committee for the Carrollwood Cultural Center Member's Show. 
Good News and Happenings: Congratulations to the CCC award winners; Best of Show - Roland Descombes, Cypress 1. 1st Place – David Beebe, Habana Past Tense. 2nd Place – Gainor Roberts, Somewhere the Sun is Shining. 3rd Place – Carol Flagg, Orchids and Pears. Honorable Mention – Ruth Nienhaus, Spanish Flowers and Diane Harm, Fall Feast. People's Choice – Virginia Butler, Dos Burritos. 
Officers' Report: Treasurer Report – Bank Balance is $2267.71.    Members 51. 
1VP – The e-mail was sent out for the Cultural Center Show art pick up reminder with the change of date and time. 
2VP – The contract for the Bamboozle show has been signed and sent. Call to artist will go out next. They are interested in having more abstract art. That could be part of the theme. The show title and theme have not been decided yet. 
Committee Reports: Jimmie B. Keel Show; Dotty Baker will be chairman and Virginia Butler volunteered to help. This is for all members. Dates have been changed to Sept. / Oct., 2017. Drop off for art is Sept. 2nd from 9 – 12. Pick up of art is Oct. 28, 12 – 2.  Jennifer Hodges has been contacted and will meet with Dotty after returning from vacation. The reception is not scheduled yet. 
Bamboozle Show; Dore' Anderson will be chairman. This is for active members only. Dates have been changed to Jan. 18 – Feb. 10, 2018. 
Taste of Tampa Show; Pat Beebe will coordinate it. This is for any member interested in participating. A one day exhibit on Nov. 4th during the two concert. She will be sending out a call to artist. 
Holiday Party; Diane Harm is the chairman. This year the board has decided to hold the event at a restaurant. Date is pending. Several places have been suggested, Stonewood, Black Rock, Brio, Rusty Pelican, Olive Garden… She will consider dates available for around the first week of Dec. and room capacity. Reservation might need to be made with a deposit by the members that plan to attend.  
Individual Art Shows; Artist are needed for a Halloween themed show at Bamboozle for Oct. 14 – Nov. 18. Contact Tim Gibbons at Tim@funkyasamonkey.com. 
Announcements: Steve Sparks sold two of his photos from the CCC show. 
Dave Beebe has a photo club at the Life Enrichment Center. They meet once a month with scheduled field trips for photo shoots. 

Featured Artists was printed in the Community Magazine of Pasco County. 
Program: Art Challenge.  This quarter's challenge is "Bird's Eye View" picked by Sally Yoder, the last challenge winner. Members participated anonymously with projects completed during the past month.  All members present voted on their 3 choices. After the voting, the challenge participants were able to discuss information about their work. The winners are 1st Place – Dotty Baker, 2nd Place – Margret Thomas, 3rd Place – Paula Noblitt. They all received cash prizes. Next challenge will be announced at the August General Meeting.


Due to a lower than usual turnout of artists entering the show and a significant reduction in sponsor provided prizes, this year's show had to move every entry into a single, combined category. We brought in
Sue Downes Allen
to judge the show. Here is what she had to say about it:
"
Thank you for the opportunity to judge this excellent exhibit.  I wish I had more awards to give.
Beyond an artists handling of their chosen medium, my criteria was composition, and overall effect in addition to how well each artist achieved their intent."
---
Best In Show:   award $75.00  & AOE $25.00 Gift Certificate
Roland Descombes       for           "Cypress Roots I"
This excellent, well composed, drawing is strong enough to catch my eye from across the room.
Close-up I enjoyed the artist's skill and finesse with detail.  The award is won by presenting a beautifully complete work of art.
---
First Place:   award $50.00
Dave Beebe                for                "Habana Past Tense"   
Photography should catch an interesting moment in an original way.  Technical aspects are a given and other aspects of creativity dominate. Here the photographer achieves that as he leads us on a path of discovery with bold color and content.  
---
Second Place:  award $25.00
Gainor Roberts      for              "Somewhere The Sun Is Shining"
I love the title of this painting, which tells a story, while effectively using light and varying de-grees of dark for it's powerful impact.
---
Third Place:   award $20.00 
Carol Flagg                for              "Orchids and Pears"
This perfect composition, beautifully painted, draws me in with the pear in the foreground and then sends my eye searching for other yellows, contrasted by a balance of purples and greens.
---
Honorable Mention:      
Ruth Nienhaus           for            "Spanish Flowers"
In this watercolor painting of white flowers, color and just enough darks are splashed into a beautiful composition which allows the whites to sing.
---
Honorable Mention:  
Diane Harm       for             "Fall Feast"
This simple but well rendered painting of corn plants and birds is elevated to award status by effective use of negative space and beautiful lights and darks.  Stand back and feel the space and design.
---
People's Choice:
Virginia Butler          for            "Dos Burritos'"
This was a new category for 2017 and votes were accepted by those in attendance. There were 12 artists that received votes and each artist received exactly 2. With a 12-way tie, the award was decided by drawing (as in a random selection, not a sketch).